Students often ask for recommendations on good reading material to back up their positions.  During the holiday break, take advantage of the extra time away from classes to grab a good book and get comfortable with a warm holiday drink.  Or, give the gift of knowledge to your friends and family! Now is the time to consider what gifts would be appropriate.  Here are some books we recommend: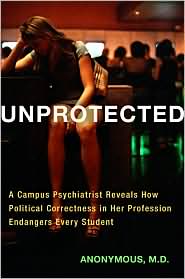 Unprotected; a Campus Psychologist Reveals How Political Correctness in Her Profession Endangers Every Student by Miriam Grossman
Dr. Grossman became disgusted with the political correctness permeating her career as a campus psychologist at UCLA. Confronted daily with the detrimental effects of the hook-up culture on college campuses and the damage it is doing to students' lives, she speaks out against it. This book is a collection of brutally honest stories including hard medical facts about the hook-up culture from a doctor. Every college student needs to hear this message to protect themselves and safeguard their health.
Wing to Wing; Oar to Oar by Amy and Leon Kass
In a culture plagued with marital failure and misunderstandings, Professors Leon and Amy Kass have compiled this brilliant anthology of works as a response. Wing to Wing; Oar to Oar is a collection of lessons on love that leads to marriage through authentic relationships. This pro-marriage book is designed to help young adults contemplate the ingredients required for securing a suitable spouse and achieving life-long marital happiness.
The Thrill of the Chaste; Finding Fulfillment While Keeping Your Clothes On by Dawn Eden
With a frank and honest perspective, Dawn Eden presents chastity in a refreshing and compelling way. A convert to Christianity, she explains that chastity is more than a list of No's. Using her faith as a foundation, Dawn describes chastity is the ability to open oneself to God's plan for sexuality, marriage, and authentic permanent love. This is a quick and heart-warming read with many outstanding points on the benefits of saving sex for marriage.
How to Avoid Falling in Love with a Jerk(ette); the Foolproof Way to Follow Your Heart Without Losing Your Head by Dr. John Van Epp
Ever wish there was a system to avoid getting your heart broken? Dr. Van Epp's experience as a clinical psychologist counseling thousands of couples has been condensed into a concise formula for marrying well. He has established a fascinating fool-proof system for dating, promising to protect against heartbreak. His findings are factual, non-biased, not based in religious sentiments, and the techniques are effective. Ultimately, he argues against co-habitation and for chastity, but from an indirect and medical perspective.
The Social Costs of Pornography
This year, the Witherspoon Institute released an invaluable book containing a statement of findings on the damage done to society by pornography.  Drawing from an array of academic perspectives, their book is a powerful tool that can be used to educate yourself on this pervasive problem.
For more recommendations, check out our Resource Library and search "books."
Think we should add something to our list?  Suggest a book!
Don't see something you're interested in?  Want a book on a different topic?  Ask us for recommendations!
Happy Reading!